Age Outdoors Bike and Walk for a Healthy Future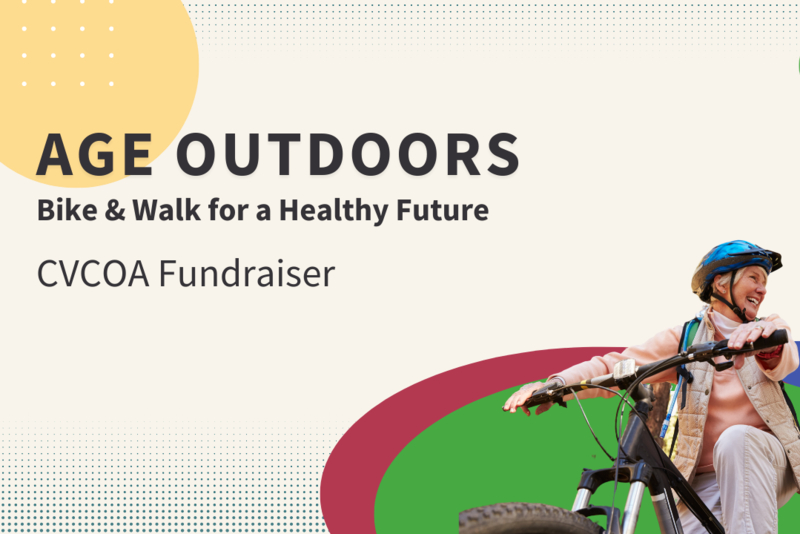 Join CVCOA for Age Outdoors and help raise funds to support healthy aging!

Grab your bike and/or walking shoes and join Central Vermont Council on Aging (CVCOA) for Age Outdoors: Bike & Walk for a Healthy Future! Support CVCOA's healthy aging programs and services for older adults in Central Vermont by registering and donating today!
This fundraising event on the Lamoille Valley Rail Trail will feature a biking route and a walking route, both starting from our registration table at Oxbow Park in Morrisville, VT. The biking route will head West from Oxbow Park/Morrisville, with stops in Hyde Park, Johnson, and Jeffersonville. The walking route will head East from Oxbow Park/Morrisville and will include artwork and stories over the 3 mile round trip. Bikers and walkers can turn around at any point to return to Oxbow Park.
We encourage all registrants to create their own fundraising campaign to support this effort. Ask your friends and family to contribute a dollar amount for each mile biked or walked, or suggest a fixed donation amount. Checks can be mailed to CVCOA after the event, or, click here to create your own unique fundraising page online to help us reach our goal!
All Age Outdoor registrants will receive an event t-shirt to show your participation and your dedication to supporting Central Vermonters to age with dignity and choice. To guarantee that we can order your t-shirt in time for the event, please register by Sunday, August 28th. Registrations after August 28th cannot be guaranteed a t-shirt in their size.
Lunch will be available for sale at eateries in downtown Morrisville upon returning to Oxbow Park from the biking and walking routes, with a special discount for Age Outdoors registrants. Be sure to grab a map with participating eateries from our registration table.
CVCOA is partnering with River Arts for the walking route to share artwork and stories by older adults in Vermont. River Arts is offering a free workshop for older adults at 12:00 p.m. at their facility (74 Pleasant St. Morrisville, VT).
Are you unsure if your bike is safe for the trail? Power Play Sports in downtown Morrisville will be providing free safety checks for anyone registered for Age Outdoors!
Event Schedule:
8:00 a.m. - Registration table opens in Oxbow Park
9:00 a.m. - Suggested time for bikers to start their route
10:00 a.m. - Suggested time for walkers to start their route
Bikers and walkers return to Oxbow Park after their route for list of participating local eateries and discount sheet
11:00 a.m. - 1:00 p.m. - Lunch at Morrisville eateries and/or attend workshop at River Arts
CVCOA is the leading expert and advocate for healthy aging in Central Vermont. Learn more about our impact online at impact.cvcoa.org.