Senior Companion Program
Make Independence a Reality. Become a Senior Companion today!
The Vermont Senior Companion Program is a statewide program that matches volunteers ages 55 plus with older neighbors who need companionship and assistance.
Senior Companions aim to keep people in their own homes as long as possible, prevent feelings of loneliness and isolation, and give time off to family caregivers.
While helping to make the lives of others easier and more meaningful, you'll forge new relationships with people in your community and make a significant difference in the lives of others.
Senior Companions receive a modest non-taxable stipend, mileage reimbursement, paid personal leave and holidays, accident and liability insurance, paid training opportunities, and friendships that last a lifetime!
No experience necessary: just a positive attitude and the desire to help!
CVCOA requires that all volunteers who are serving in person be fully vaccinated and boosted, depending on the timing of your original two doses. CVCOA has virtual volunteer opportunities for everyone, regardless of vaccination status.
Am I eligible to become a Senior Companion?
You are eligible to become a Senior Companion if you are:
Age 55 or older
Have a yearly income less than $29,160 (single) or $39,440 (couple)
Willing to serve 10 hours per week (excluding paid leave and holidays)

What do Senior Companions do?
Help with tasks of daily living (grocery shopping, doctor visits, sharing a hobby, etc.)
Provide respite for you if you are a family caregiver
Give support and friendship
How do I apply?
Click here to download the application and return to CVCOA, Attn: Sarah Semler, 59 N. Main Street, Suite 200, Barre, VT 05641
How do I get more information?
Call the Helpline at 1 (800) 642-5119 or email the Volunteer Services Director.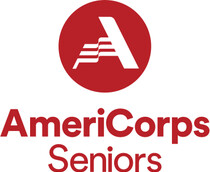 AmeriCorps and AmeriCorps Seniors is part of our nation's history of commitment to building a culture of citizenship, service and responsibility. Central Vermont Council on Aging is proud to be a part of the AmeriCorps Seniors Senior Companion Program.